Starke-DMS®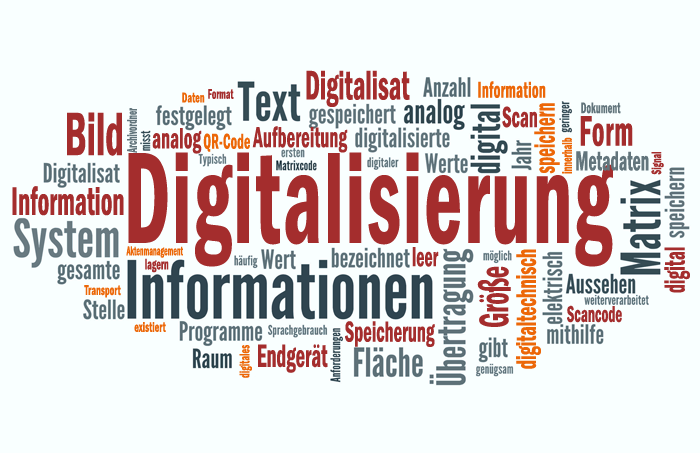 Digitalization with Document Management
CICERO CONSULTING and Starke+Reichert share a common philosophy – "simplicity". "Simplicity is smart!" – the pursuit of simplicity, also in digitalization. Document management is an important cornerstone on this path.
Especially in times when home office is becoming more frequent and partly necessary, a good DMS (document management system) ensures that all employees have all necessary information and documents at their disposal when they need them, quickly and intuitively.
With both of us as strong partners, simply future-proof into digitalization!
Benefits
Benefit from the advantages of Starke-DMS® & from our know-how:
fast

filing (keywording/indexing, metadata) & finding

automatized

less repetitive activities, less work duplication
fewer sources of human error

quality assurance through compliance with specifications
via workflow to the right person in case of exceptions
more time for value-adding activities (knowledge workers)

integrateable

into MS Office (functionality already included in the standard)

when accessing a document, always see the current version (versioning)

into ERP-systems (using open interfaces: REST–API, ODBC (metadata))
in various applications (invoked by means of Starke® HotKey)

individual

optimally mapped to your processes (workflows)
mapped processes can be optimized

easy to use

intuitive for users
without required programming know-how for administrators (no-code).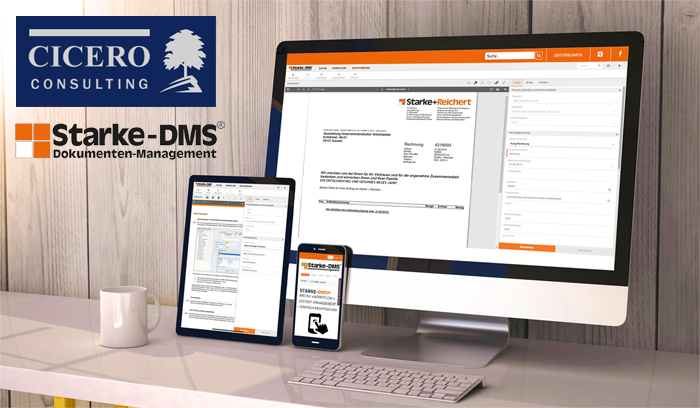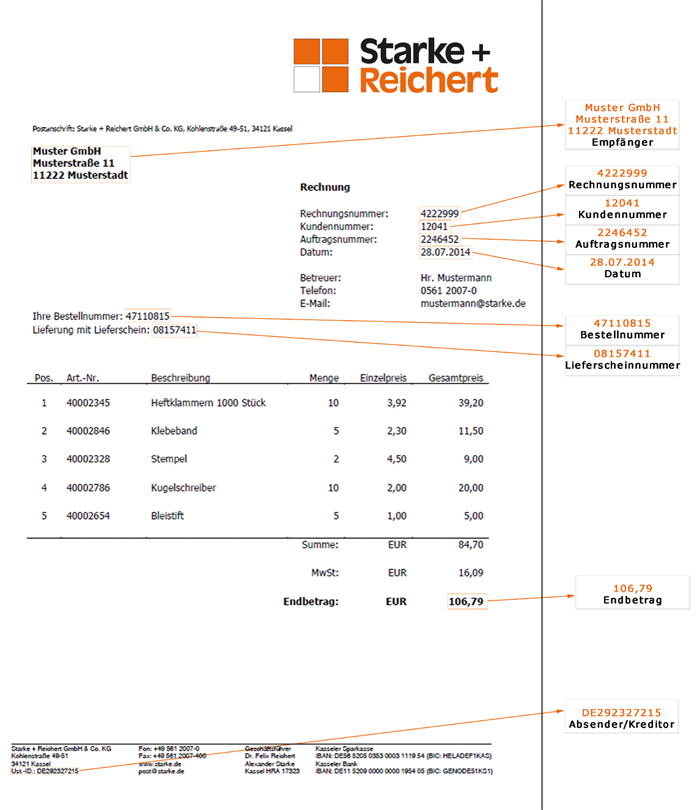 Incoming Invoice Processing/ Cash Discount Management
Processing of incoming invoices is a core process in many companies. It must be ensured that all invoices are
are correct in terms of content and form,
granted cash discounts are claimed.
With Starke-DMS®, this process can be easily automated:
all relevant information printed on the invoice can be read automatically (OCR, Barcodes) and the receipts are archived in conformity with law;
from recognition on the server in batch to automatic invoice verification, a lot of effort can be saved here;
the workflow ensures that only in exceptional cases necessary steps (e.g. invoice complaints) have to be carried out manually (incl. substitute regulation), the rest is done fully automatic.
Digital Inbox
CICERO CONSULTING and Starke-DMS® help you to digitize your incoming mail.
Using digital inboxes, mail items and receipts are physically manipulated only once and every document finds its recipient. Many documents may automatically be
archived (in conformity with the law) und
assigned to the correct workflow (organizational control).
As a result, everyone has access to all documents, even in home office.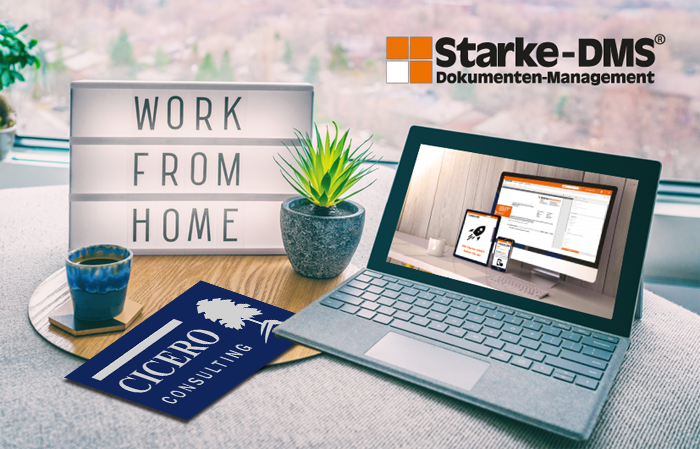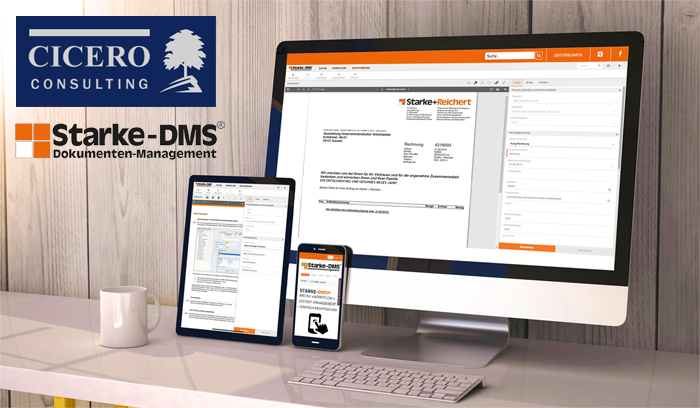 Personal file/ qualification management
All documents for each employee at a glance. Find the employee with the right qualification for each task/project with ease. Everyone has access to the documents, payroll and salary statements that concern them.
Through our DMS solution with Starke+Reichert
you bring people, processes & documents in your company together

no matter where, when and with which end device (viewer, web viewer, 2go app)
according to the respective access rights (detailed authorization concept, four-eyes-principle with switchable second password assignment)

but always under highest security & availability standards (confidentiality levels, encryption, DSGVO compliant)
make smarter decisions – transparent & comprehensive
achieve your business goals – future-proof with strong partners. Significant increases in productivity and efficiency ensure that the use of a DMS usually amortizes within the first year.
e-File
Files in their great variety are part of everyday office life: files on projects, contracts, customers & suppliers, personnel et cetera … It is easy to lose track of which documents are filed where, and, as a precaution, documents are copied/duplicated. Dynamic files from Starke-DMS® enable
automatic filing and assignment of documents

via common unique keys (project no., customer no., etc.)
regardless of document type and across company divisions possible

one-time storage in Starke-DMS®

no multiple storage, no data redundancy, but versioning

digital editing (annotations, notes, stamps), without changing the original
central, simultaneous access for all employees (clearly structured via permissions management)

even on the road/mobile (web viewer, 2go app or offline on USB sticks)
reliable, fast retrieval (full text search, keywords)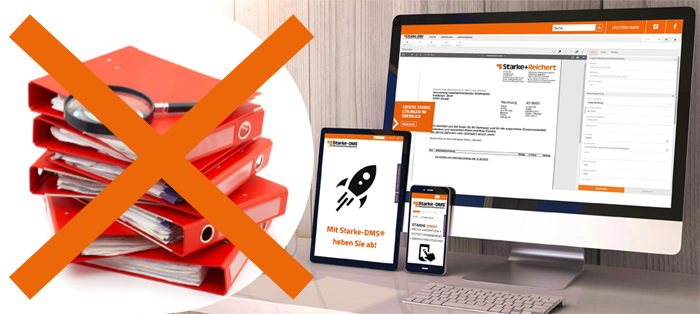 ---
How to become a happy Starke-DMS®-User
It's high time to get rid of all the file heaps, paper chase, duplicate filing systems & administrative paper tigers in your company that waste valuable working time and keep your employees from value-adding activities.
Together with our process & integration know-how and our partner Starke & Reichert, we can help you to implement your DMS – the all-in-one solution for managing your documents:
contact our product specialists with your questions or if you wish a personalized demonstration!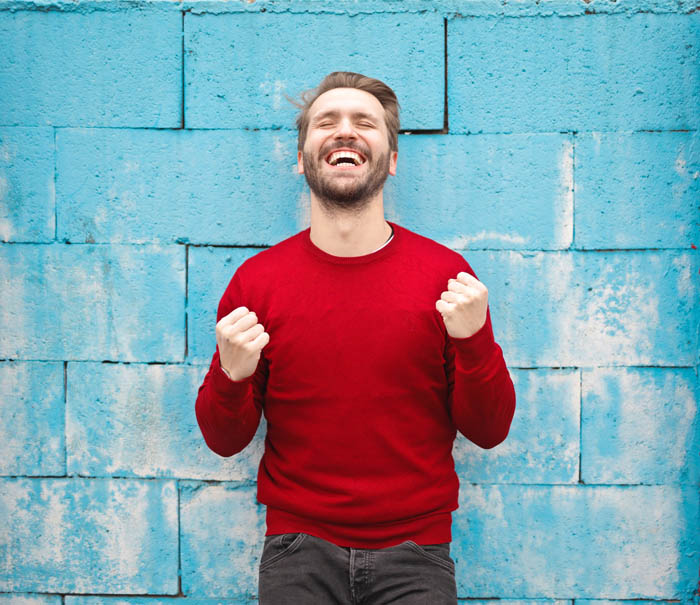 ---
In everything we do, we strive to reduce complexity, make solutions as simple & compact as possible, and thus increase the quality of your work environment & documents.
We are always seeking to harmonize business and IT strategies, even in the area of document management.